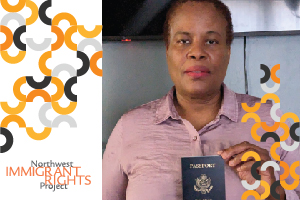 Joanne Harrington finally has a U.S. passport.
She has already booked an international flight for a vacation she's been hoping to take for decades. And before she leaves to enjoy her trip, she wanted to thank you for helping to make it possible.
Before Joanne became a NWIRP client, she was undocumented. For years, she was terrified of being deported and separated from her four children. When she moved to Washington State in 2010, Joanne started researching online for organizations that could help her. The first result she saw was Northwest Immigrant Rights Project.
After learning more about Joanne's lived experiences, we found out that she had been the victim of a crime while in another state. Because of this, Joanne was eligible to apply for a special immigration protection available to survivors of violence called a U Visa. Unfortunately, while driving on the highway one day, Joanne was pulled over by a police officer for a routine traffic stop. The officer noticed that Joanne had an active order of deportation against her and chose to notify immigration officials. She was taken to Northwest Detention Center in Tacoma, where horrifying conditions are well documented. As is much too common for our clients, Joanne's initial case with NWIRP became a deportation defense case. And because we have an office in Tacoma, we were well equipped to represent her throughout her deportation proceedings. After a lot of hard work from our team and from Joanne most of all, she won her case.
Joanne was released from immigration detention and eventually received a green card in 2017. And after waiting the required five years, she was granted her citizenship this summer and voted for the first time this month. NWIRP represented her during her naturalization process as well. All of these services — our intake process, U Visa casework, deportation defense, and naturalization — are free to eligible clients. High-quality services like these and others — offered for nearly forty years — are only possible because of the ongoing and dedicated support from community members like you.
"Northwest Immigrant Rights Project was there with me all the way," Joanne said. "When you spend nearly forty years in a country with no paperwork and finally find someone who is truly advocating for you, it is a feeling that is out of this world. When I got a U Visa, I jumped for joy! When I got a green card, I jumped for joy! When I became a citizen, I jumped for joy! This joy is possible because of the incredible community who support Northwest Immigrant Rights Project."
Please consider making a gift that will allow us to continue serving community members like Joanne! Thank you for believing that everyone in immigration proceedings deserves to have a lawyer by their side. Thank you for being part of our community of supporters.